Ringneck Rendezvous
by Kerissa Nelson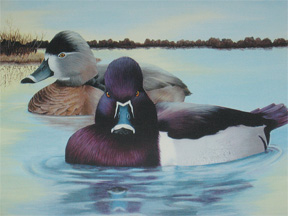 At the age of 17, Kerissa Nelson, Grantsburg, won the National Jr. Duck Stamp Contest with her painting of a pair of ringnecked ducks. During her sophomore year of high school, her art teacher saw her painting of a rose-breasted grosbeak and recognizing her talent, encouraged Kerissa to enter the Junior Duck Stamp Contest.

The following year, as a junior, she painted a pair of green-winged teals and earned first place in her age category for Wisconsin, just short of the Best of Show title.

In April of 2005, as a senior in high school, Kerissa painted a pair of ring-necked ducks. Her painting was selected as the Best of Show in Wisconsin and was forwarded to the National competition where it was selected as the top entry. Her pair of ring-necked ducks
is featured on the 13th Junior Duck Stamp. Her painting is still available as a limited edition print.

The Junior Duck Stamp is a pictorial stamp produced by the U.S. Fish and Wildlife Service and sold by the U.S. Postal Service and Amplex Corporation. All proceeds from the stamp sales are used to fund environmental education programs and scholarships.

For information on the Junior Duck Stamp Program, visit www.fws.gov

For information on Kerissa's Ringneck Rendezvous print and/or stamp, e-mail NOW@grantsburgtelcom.net